I am what most people would call a football fanatic. No, not stop-start-stop-stop-stop-commercial-kickoff-commercial-start-stop-punt football. We're talking about real football here. The one where your foot is the medium by which the footballer expresses his/herself. The beautiful game that flows like a stream in the forest. The game of unparalleled fan passion and Wayne Rooney hair transplants. The game of individual moments of artistic brilliance and collective efforts only possible through telepathic means.
Today I bring to you my all-name squad. Using only objective analysis, I have created a foolproof formula that will spit out the most majestic monikers the EPL has to offer. In the case of two or more names being equally awesome, the tiebreaker will be form and ability. On to the selections. (Clubs in parenthesis)
Liverpool keeper Pepe Reina
Goalkeeper-
Jose "Pepe" Reina
(Liverpool)
Pepe is the Spanish nickname for Jose. Now it is also what I would like my grandchildren to call me.
Honorable mention:
Wayne Hennessey (Wolverhampton)
Blackburn centre-back Christopher Samba
Defense-
Benoit Assou-Ekotto
(Tottenham)
The Cameroon International doesn't consider himself
cut from the same cloth as other top-flight footballers
. You're right Benoit, that name elevates you to much greater heights.
Rio Ferdinand
(Manchester United)
You shouldn't be playing football, you should be in 18th century Europe sitting on your royal throne while you playfully throw knives at your court jester, Emperor Ferdinand.
Nicky Shorey
(West Brom Albion)
You? Did you ever play for the
Blouses
squad vs. Charlie Murphy and the Shirts?
Christopher Samba
(Blackburn Rovers)
I've got a soft spot in my heart for African names. Combine that with the classic English first name and we've got a winner.
Honorable mentions:
Joleon Lescott (Manchester City)
Luke Young (Queens Park Rangers)
Brede Hangeland (Fulham)
Branislav Ivanovic (Chelsea)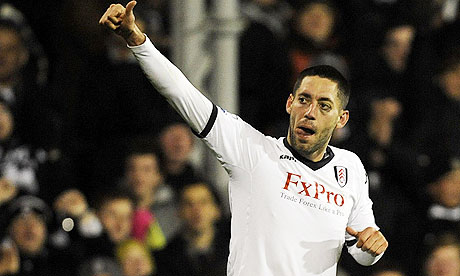 Fulham attacking midfielder Clint Dempsey
Midfield-
Yaya Toure
(Manchester City)
This team could be composed of nothing but City footballers and I'd have no problem with it. This spot goes to the man many consider to be the best defensive midfielder in the world.
Royston Drenthe
(Everton)
If you had to bet on his skin pigmentation what would it be? I'll wait. Nope, you're wrong. He's Dutch. And he's black. And that name is lethal, in a good way.
Charlie Adam
(Liverpool)
Simple and satisfying. Two first names are better than one!
Clint Dempsey
(Fulham)
If I was writing a novel about a swashbuckling American who never played it close to the vest and wore his heart on his sleeve, I would have no choice but to name him Clint Dempsey. He also set the
American EPL scoring mark
- 37 goals- on Monday in a 1-0 win against Liverpool. He is America's best player, and it's lone representative on the EPL All Name Squad.
Honorable mentions:
Tom Cleverly (Manchester United)
Samir Nasri (Manchester City)
David Silva (Manchester City)
Alejandro Faurlin (Queens Park Rangers)
Newcastle United striker Demba Ba.
Forwards
Demba Ba
(Newcastle United)
Say this name out loud. Say it again. One more time with enthusiasm. I rest my case.
Javier Hernandez
aka
Chicharito
(Manchester United)
Reason #17 why football is better than American football- players like Javier Hernandez can put their nicknames on the back of their kits.
Honorable mentions:
Gervinho (Arsenal)
Grant Holt (Norwich City)