Tony Plush is looking to light one at the end of Oct-boner.
Disclaimer: this is about baseball, meaning this article will probably last three plus hours and you'll fall asleep at least twice during the middle paragraphs. Turn away now if you wish.
Also, don't take these predictions to the bank. I'm just a fan of baseball who watches "MLB Tonight" a lot.
Ah, yes. The leaves are turning, the Halloween displays are out at Wal-Mart, and the Red Sox have choked it up again. We are on the heels of the greatest night of regular season baseball probably ever. That means it must be time for postseason baseball! Why are we calling it Oct-boner? Playoff baseball is so intense and compelling that we had no other choice. Simply put, October baseball gets me excited, hence the name, "Oct-boner."
Before I get into the playoff preview there must be some time for reflections.
- Why are we so upset about Jose Reyes
leaving the final game
of the season early after a bunt single to secure his batting title? It's the same as the 14-1 Patriots resting their starters in week 17, isn't it? What are we gonna do, put an asterisk on his batting title? The man played the whole season and had the highest batting average leading up to the final day, he didn't want to jeopardize that. It's not like his team was fighting for a play-off spot.

- 76-0. That was the Red Sox record this year when leading heading into the 9th inning. Now they're 76-1. Robert Andino haunts my dreams at night.
- I remember in the middle of August when all the Yankee fans were worrying about AJ "six runs in two and a third" Burnett. For some reason his ineptitude overshadowed a pitcher equally as terrible stealing 90 mil over five years in Boston.
John Lackey's historically bad season
, coupled with the Carl "I'm a fourth outfielder getting paid like a clean-up hitter" Crawford meant the Red Sox spent something like 230 million on two players who have no business making that kind of money. Not to mention JD Drew and the plethora of other, "What were you thinking?" signings by Theo Epstein over the last five-plus years. Bill Simmons adequately sums up the September to Disremember in his
running dairy
of the night of September 28th, 2011.

- A baseball team in Atlanta (sorry, forget their name) lost a 8.5 game wild-card lead in September. It would be a bigger deal if a similar story didn't happen to the BoSox; too bad nobody cares about That Team That Plays in Atlanta.
Colin Cowherd. Huge fan of the blog.
- It's time to cut the baseball season at least 20 games. Nobody wants to play baseball in 40 degree weather and the season runs way too long. There's no urgency. Colin Cowherd, an avid fan of Vicarious World, brought up the point that no sport in America owns the month of August. There's no basketball or football and the MLB continues to put on meaningless summer games that nobody goes to because they're on vacation or sitting at home with the AC on. Let's say baseball did the smart thing and ended the season in early August. Everyone would be excited about Oct-boner baseball, though we'd have to call it something else. Urgency means everyone is tuning in. I'm sure a large portion of the country saw the Red Sox feces fly all over Baltimore last night. They watched because it mattered. An early August tilt between the Reds and Nationals doesn't do anything but hurt baseball. As it is, the MLB playoffs have to compete with NFL and NCAA football, which are not the sports you ever want to go toe to toe with. Next Monday morning, Hannah Storm and Kevin Neghandi aren't leading off with Jose Valverde's two blown saves over the weekend in New York, they'd rather bring in Tim Hasselbeck to discuss the Texans getting blown out by the Steelers. Baseball is going down the road to obscurity, fast. That was my rant for the day.
Instead of being traditional and going series by series we'll be doing this ranking-style. We will begin with team number eight and working our way up to team number one.
The teams ranked eight through four will be going home in the Division Series, teams four and three will be going home in the Championship Series, team two will lose in the World Series, and team one will be hoisting that ridiculous looking trophy with all the flag poles on it at the end of the month.
Before we begin, I have to say that it was difficult for me to do this because I can see six different teams taking it all. This is the most wide open playoffs I've seen in awhile. And as we all know, all it takes is for one team to get on a streak and before we know it the Daimondbacks are World Champs, but probably not. Here we go.


The Division Series


# 8- Arizona Daimondbacks- dispatched 3-0 by the Milwaukee Brewers

This year's "we're just happy to be here" team. Great season, a candidate for MVP and Cy Young, and a future that looks bright. Justin Upton is crazy good, but this team has all the makings of a first round bow out. Couple that with the Brewers being the best home team in the majors and its, "see you next year," for the D-Backs. The Brewers are on a Jack Bauer-esque mission and they are not to be tampered with. More on them later.
# 7- Tampa Bay (Devil) Rays- sent home 3-2 by the Texas Rangers
The (Devil) Rays meet their walk-off hero at the plate

Colin Cowherd called them, "Joe Maddon and the Overachievers." Fitting. Their overachieving ways end in the division series against the Rangers.
I couldn't tell what Joe Giradi was trying to do last night. He played Jeter, Cano, Teixeira, Granderson and Swisher while pitching guys like Aaron Laffey and Scott Proctor. Whatever. The Rays still trot out half a line-up every day and it'll be hard for them to score on the road against a underrated Texas staff. Although it wouldn't be surprising if they made it to the World Series again with their own great pitching staff.
This Texas squad got some good ol' fashion experience from last year's run. No Cliff Lee, no problem. Still, any pitcher has to be terrified when
Evan Longoria
steps up in the batter's box. Even I'm terrified when he steps up because I'm scared the bomb he hits might smash through my window hundreds of miles away. But the Rays only have one Evan Longoria, the Rangers have a Josh Hamilton, an Ian Kinsler (30-30 second baseman), a Mike Napoli, an Adrian Beltre, a Nelson Cruz... you get the point. This is the most dangerous lineup in baseball. And I know he's having a good year, but are we supposed to trust Kyle Farnsworth in the postseason?
# 6- St. Louis Cardinals- done in by the Philadelphia Phillies 3-2
Another team who played well in September and benefitted from a historic collapse. There are many reasons to like this team. They have the best or second-best lineup in the NL with Pujols (should be getting some MVP consideration), Holliday and Berkman. Chris Carpenter is pitching like its 2006. The bullpen has been good in the recent weeks. Too bad they get to face Halladay, Lee, Hamels and Oswalt. A lot of experts are saying that the Phillies lineup can be pitched to, but to beat these four over five games is too tall an order for any lineup. Tony La Russa is gonna have his hands full.
# 5- Detroit Tigers- downed 3-2 by the New York Yankees
Justin Verlander
should be the MVP
. Just because he doesn't play every day doesn't mean he's not as valuable as Jacoby Ellsbury or his teammate, Miggy Cabrera. Over the course of a season, every fifth day a pitcher will have just as much impact (in terms of AB's and put-outs) as an everyday player. But guess what, the Yanks have a guy named CC who can match Verlander pitch for pitch, home field advantage, and a lineup with a little more pop. And I'd bet on
Jose "49 for 49"Valderde
imploding in a game or two.
But with this series, as with all the others, don't be surprised if it goes the other way. The case for Verlander's MVP was based on him being their only top notch player.
Yeah right
. Doug Fister has fisted his way through lineups over the last month and a half even better than Verlander. The lineup is first class with Miggy, Jhonny Peralta, Alex Avila, and the man of many handshakes Victor Martinez. Can they beat the Evil Empire? Sure. Will they? No.


The Championship Series


# 4- Texas Rangers- defeated 4-3 by the New York Yankees
Revenge is a dish best served with a slice of New York pizza (on a scale of 1-10, that joke was plain corny). These are almost identical teams from a year ago. While I really like the Rangers (best offense in the AL) I can't discount how the Yankees stayed cool in September as the Sox pooped all over Fenway. They've got speed, power, frontline pitching, and a solid bullpen. Of course we could say the same about Texas, but they don't have home field (even though
home field
may not matter). Texas has a better rotation overall and could win this series, but there's something about the Yankees that makes them hard to pick against. If they get two good outings out of the pu-pu platter of Ivan Nova, Freddy Garcia, and "God I Hope AJ Isn't Starting a Game" they'll be OK.
# 3- Philadelphia Phillies- upended 4-2 by the Milwaukee Brewers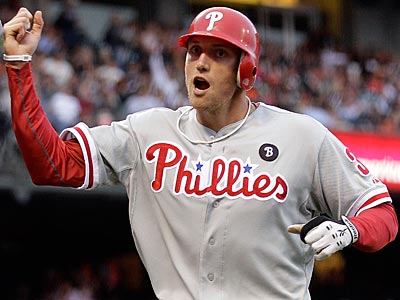 "Good game, let's go eat."
As much as that Philly pitching staff has dominated this season, the Brewers are that fun-lovin' team that nobody gives a chance to win, then improbably eeks out a couple one-run games and surprises the world. This isn't the 2010 Giants, next to the Cardinals they have the best lineup in the NL. Ryan Braun is a 30-30 guy who came second in the batting race, Prince Fielder is the hardest hitting vegetarian baseball player, Rickie Weeks is back in the lineup, and Tony Plush has added even more swag to an already swagarific club.
AAAAAHHHHHH!!!
If they can overcome a few
Zach Grienke panic attacks
on the mound they will beat the Phils, despite the fact that Yunesky Betancourt starts at shortstop for them.
Make it two years in a row that the Phillies were upset in the NLCS. This lineup struggled all season and the Brewers have a good staff and closer. They're not the Phillies rotation, but every starter on this team is good for their spot. Greinke/Gallardo is a good 1-2 combo, Shaun Marcum is a good #3, and Randy Wolf is good #4. These guys can hold their own against an aging Phils lineup. And they will.

The World Series


# 2- Milwaukee Brewers- World Series runners-up 4-1 to the...
# 1-New York Yankees
And the Yanks continue their tour of terror through the playoffs. Despite having no idea how pitchers two through four are going to perform they overcome by Gardner stealing bags, Cano ripping doubles, A-Rod coming up big, Teixeira sending
Teix Messages
to right and left field ("You're on the MARK Teixeira!"), and Jeter providing the intangibles (whatever that means). CC Sabathia has already proven he can beat Justin Verlander, now he'll finish off this all-time Cliff Lee/ Josh Beckett like run in the postseason with another World Title. Mariano is lights out as usual and the Yankee's storied history continues.
The Brew Crew won't be overcome by the moment, but they will be overcome by the sheer force of the Yankee mystique. The Boss smiles in heaven… while still screaming expletives at AJ Burnett. A-Rod gets a World Series MVP (hopefully he'll pull one of these off) and Russel Martin is shot down in anger at the Tipper Tape Parade by a mad Red Sox fan. No worries, they'll still be partying like its 2009.
Even though my favorite team failed to make it this year, Oct-boner will still be as exciting as ever, even if everybody else is watching football. I just have one question: if the Yankees win the World Series and nobody is around to care, does it count?